"Outside all the major feasts and fasts, outside the two great seasons and cycles of the faith - Advent & Christmas and Lent & Easter - almost two-thirds of every year is spent simply learning the fine art of living the Christian life.  The Liturgical year simply calls it "Ordinary Time" but there is nothing ordinary about Ordinary Time at all.  It makes dailiness, stability, fidelity, and constancy the marks of what it takes for Christians to be "Christian" the rest of the year."

Joan Chittister, The Liturgical Year - Spiraling Adventure of the Spiritual Life
when & how is ordinary time celebrated?
Ordinary time begins the Monday after Pentecost (early summer) and stretches until Advent.  Lasting nearly 6 months, it is the longest season of the church year.  In it, we walk the faithful and steady path of discipleship.  We journey inward (strengthening our connection to Christ) and journey outward (in love for others) all in the context of our life together as the church.
Questions
to Ponder during Ordinary Time
What sort of context helps me to grow?
What habits for spiritual growth am I called to cultivate right now?
How is Christ leading me to love others? 
What can I do to deepen my connection and constancy with the church?
What does obedience to Christ look like for me in an "ordinary" day?
Creative & Contemplative suggestions for Ordinary Time
prayer rhythms
Prayer is essential in our fellowship with Christ, so use Ordinary Time to begin (or renew) a rhythm of prayer in your life.  The Anglican Book of Common Prayer is our guidebook for personal and corporate prayer.  In it are many liturgies and prayers to guide your devotion.  It can be downloaded for free, you can purchase a book, or use the BCP app.
In this video, Pastor Miguel shows us how to use the BCP for personal, small group and family prayer and scripture reading.  He answers questions such as, "What do the italicized texts mean? Where do I find the scripture passages assigned for the day?  What can I do to simplify the prayers when I have time constraints or am praying with young children?  Where can I find prayers for specific joys and concerns to help expand my prayer vocabulary?  Is there a digital version of all this?"
There are many ways to pray using the BCP.  Here are some suggestions, starting simple and moving to more robust.
5 min or less:
Use a Collect from the Occasional Prayers to guide your daily prayer (pp. 642-683).

Learn a prayer for the morning, night or dinnertime from pp. 76-78.

Pray the Collect for the week of the Christian Year beginning on pp. 598.
15 min or less:
Pray the Psalms from the Psalter for the day of the month. Guide on p. 735.

Family Prayer is an abbreviated version of daily prayers. They begin on p. 66. You can add daily lectionary readings as desired.
30 min:
Follow the lectionary readings for your Bible reading plan. The daily reading schedule begins on p. 738.

Pray the full Morning and/or Evening Office, adding Midday and Compline as you are able.  Begin on p. 11.
The Daily Office App has fully customizable settings for many of these options.
journey inward
Lectio Divina - Lectio Divina is an approach to interacting with Holy Scripture, in which a disciple slowly and thoughtfully repeats the same short passage 4 times, paying attention in a different way with each reading: read, reflect, respond & rest.  It is less about information and more about formation - slowly digesting the Word to meditate on how the specific passage speaks at this particular time.  It can be done alone or in small groups.  Find out more here or here.
Bible Study - Bible Project Bible study notes here and InterVarsity Bible study resources here.
Imaginative Prayer - "Imaginative prayer is meeting God through the use of our imagination and the five senses as we participate personally in the many stories of Scripture, particularly the Gospels. We enter the story personally, rather than read about the person(s) many years ago. Imaginative prayer stimulates our awareness, enlivening dialogue as we connect personally with the Living Lord in the Bible story." Selah Center.  Especially fun to do with kids.  Find out more here.
Examen - The Daily Examen is a prayerful reflection on the events of the day in order to identify God's presence with us, through the joys and the sorrows. The Examen helps us see God's hand in our lives and to live each day thoughtfully and present.  It is a gentle way to end the day for children or adults.  Find out more here or here.  Here is an audio guide to Examen.
Bible Memorization -  Memorization tips here and here.
Centering Prayer - Centering prayer is time set aside (usually 20 minutes) to bring one's full attention to the loving gaze of God.  Despite wondering thoughts, the discipline is to continually return one's intention back to the Divine.  Find out more here  or here.  There is also an app to help you with your practice.
Intercession - Intercession is the act of praying on behalf of another.  If you are burdened by friends who are in trouble, or heavy with the heartbreaking events in our world, or even find yourself overly judgemental, these might be God's nudge for you to intercede.  If you don't know where to start or need help giving words to your prayers, The Occasional Prayers in the BCP (beginning on p 642) are a great place to start.  The Psalms are another abundant resource of prayers of all kinds - mourning, celebration, petition, confession - it's all there!  Here is a great guide to praying the Psalms.
apprentice yourself to a saint
During Ordinary time we celebrate Holy Days!  The Apostles, Mary of Magdalene, the Virgin Mary, John the Baptist, and the Transfiguration of our Lord.  You can find these dates in the Calendar section of the BCP.  Make time to read the passages for the day(from the Daily Office Lectionary, also near the back of the BCP) which tell these saint's stories, and ask God what you can learn from them.
Read and pray through the biographies or writing of Ignatius, Augustine, Teresa of Avila, Benedict, Catherine of Siena, Thomas Merton, Dorothy Day, St. Frances & St. Claire of Assisi, or other father and mother of faith.  All Saints Day (November 1) is the perfect time to celebrate all who have influenced us personally and the church globally.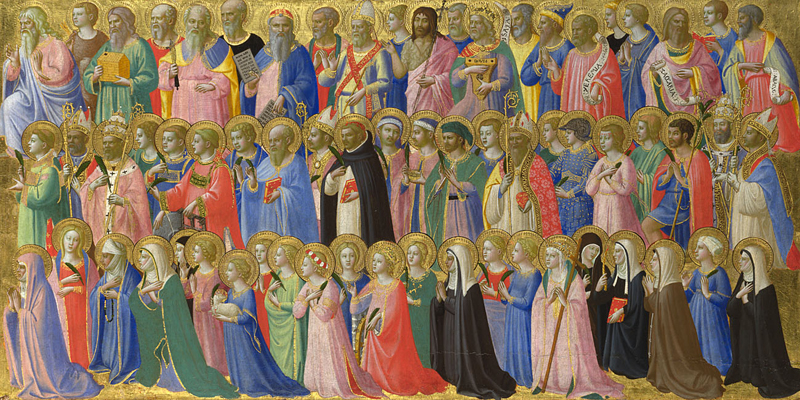 sabbath keeping
Begin (again?) your intention to receive the gift of Sabbath!  We have a kind and loving God that wants us to live free, to delight, and to rest.  Set aside a day to stop work, turn off the distractions and allow for joy and worship.  Bridgetown Church has a robust collection of resources on Sabbath.  Check it out!
develop/update a rule of life
We are each being formed all the time - by culture, what we listen to, who we spend time with, what we watch and think.  A Rule of Life helps us make a pathway for intentional growth and health as followers of Jesus.  It is making a plan for formation in Christlikeness.  Habits of prayer, sabbath keeping, silence, study, care for body and relationships...all these stretch and strengthen us, as we incorporate them in a Rule of Life.  Bridgetown Church has amazing resources on this: Check them out here.
If you already have a Rule of Life, use this season to discern and to tweak it - What's working?  What needs attention?  What might you want to try?  Invite clergy or a close friend to help you review.
journey with community
Begin a relationship with an older, more experienced follower of Christ and allow God to sharpen and shape you through them.
Initiate connection with a younger disciple and offer your prayers, encouragement, and wisdom.
Meet with a group of friends for study, prayer, confession and encouragement.
Engage a child in their play or care for a person who lives alone.
Meet with a spiritual director to help you hear the voice of God more clearly.
Neighborhood Hospitality - This may be as simple as inviting some over for a shared meal, carpooling to events, planting a mutual garden space, offering childcare, hosting a music/sing night, or having a bonfire together in the backyard. Be creative and sensitive to the unique personalities and needs of your neighbors.
Join a non-profit or community group to bring the light of Christ to your city.
Explore how God might want to use you in your vocation or work circle.
books & media recommendations for ordinary time
websites, movies, apps & podcasts
The Bible Project - Robust collection of engaging videos on Bible topics of all sorts
The Chosen - High quality video series on the life of Jesus and his disciples
Daily Prayer App - based on ACNA Book of Common Prayer (2019)
Pray As You Go - mobile app
Word & Table with Alex Wilgus and Stephen Gauthier; a weekly podcast about liturgy, sacrament, and the great tradition of Christian worship and why it is vital in our world today.
Paraclete Press is a wonderful resource for books, music, poetry and a collection of books in the Active Prayer series that engage the body and hands in prayer.
Adventures in Odyssey - Radio & podcasts for kids "bring biblical principles to life with just the right balance of fun, faith, and imagination."